Committed to Art and Design
Building Architecture
Bob Thompson, TVA Architects
Park Avenue West is a slender and sculptural building anchoring the central downtown core and mid-town park blocks. The tower is designed to dissolve upwards into the sky through a series of graduations that culminate in a distinguished, illuminated top. The building's height and architectural character result in a timeless, signature form. A warm palette of simple materials lends an interesting mix of textural surfaces: intricate stone-framed clear glass storefronts at the base and a highly transparent glass curtain wall with metal panel surfaces above. From vantage points both south and north of the site along the West Park Blocks, symmetrically inflected glass wall planes center the building, emphasizing its soaring verticality while acting as a unique visual focus point formally addressing the park.
The finely-detailed, two-story base at each public face is intended to reduce the perception of the tower's presence at street level and directly relate to the adjacent context of old, mid-rise masonry buildings. Lower level canopies and inviting exterior lighting, create a visually interesting, human scaled experience, where the tower meets the ground. Large areas of clear glass animate the pedestrian experience at the sidewalk level; the vertical massing of the tower is balanced with transparency and liveliness that invite the public to pause and window-shop, helping to bring the street to life. Learn More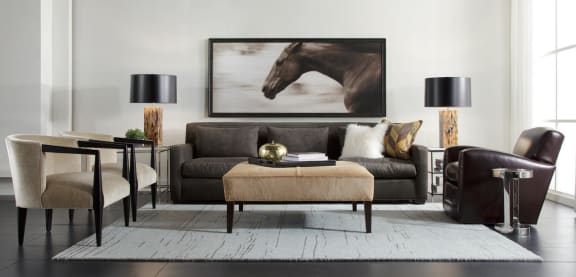 Design
Mitchell Gold + Bob Williams

Premiere home furnishings offering upholstery, tables & storage, rugs, lighting, accessories and photography/wall art from modern to traditional styles all within blocks of Park Avenue West. Learn More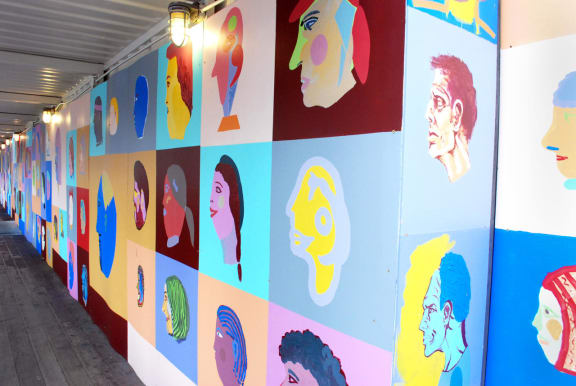 Art
Billions & Billions
In 2011, the Park Avenue West construction site became a public art piece. Created by internationally-famed artists Chris Johanson and Jo Jackson and 30 homeless youth served by New Avenues for Youth, a mural of vibrantly painted faces wrapped around the site for two years. This art installation created working wages for homeless youth and more importantly, has continued to create awareness of programs that serve these at-risk youth. Several of the panels will be proudly displayed in Park Avenue West.
Since 1997, New Avenues for Youth has taken a complete approach to addressing youth homelessness and its root causes, delivering support and resources that enable foster, at-risk, and homeless youth aged 14-24 to overcome their barriers and realize their potential. Through direct service, partnership, advocacy, and data-driven evaluation, they help youth exit street life and prevent those at risk of homelessness from experiencing it. Together, we are working toward a community where all youth have a safe place to call home and the support they need to thrive. Learn More